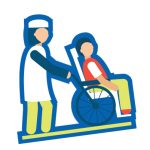 HappyAir has extensive experience in the field of respiratory pathology, care and necessary treatments for communities affected by respiratory diseases.
Our learning throughout all this time, has taught us to embrace the change and benefits of the new era of digital technology, in ways that can provide more opportunities for people around the world to change their health and how to work with patients and caregivers.
But above all we care about keeping the "human" side in the treatment and accompaniment of these patients.
The air we breathe and how we breathe, we care very much to each one of us as individuals and as people. Who we are, where we live or work and our genetic makeup, make us responsible for our future health and how we handle it.
At HappyAir we work to ensure that each person can take control of their own daily attention with the help of trained professionals, so they can follow their path anywhere at any time.
Our voice and our actions have an impact on many people around the world. Our resources and training can provide knowledge and prepare people, understand them and take better care of them, to contribute to their lung health and their own lives.
Working together in our networks, in organizations, with medical centers, with those responsible for health policies and with private companies, to change and improve our future, is our commitment.
Your donation, your time, your dedication or your collaboration, whatever the form, allows us to work to achieve our goals on a daily basis. We can do big jumps or small steps, but we know that we are on the right path.