At HappyAir we connect with people and organizations whose clear convictions we share, in Social Responsibility towards their own communities and the Society in general.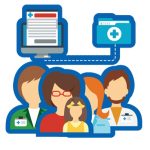 HappyAir as an ecosystem for the integral care of chronic respiratory patients and their empowerment, it develops a continuous process of validation and improvement in which our advisory council and other accredited networks of the clinical, functional and technological environment participate.
This process of continuous validation and improvement has allowed us to advance in the model of comprehensive care of respiratory pathology, the technology used, the operation of the service, privacy and usability for health professionals and patients.
We constantly work on aspects such as partnering, the signing of agreements and the consolidation of alliances that have allowed us to create a network of clinical and digital health experts, therapists, collaborating organizations, universities, professional associations and scientific societies worldwide.
Thanks to this, we offer globally, in Spanish and English, coordinated services ranging from logistical support, communication or campaigns of educational programs, to events, training programs and workshops, among others. Lending resources both from the online and offline environment, according to our stakeholders and the optimization of the desired and viable results.
All this support and know-how has allowed us to improve our knowledge and grow together professionally to create an intelligent community, to create our HappyAir Smart Community.
Our partners
HappyAir helps patients with chronic or rare respiratory diseases. This help cannot be done without the participation and research and development (R & D) carried out by different organizations such as health institutions, industry, ICT companies and patient organizations. Each of these actors contributes to making the path for the patient easier and contributes to an improvement in their health and quality of life.
Join HappyAir and:
Manage your own multicenter research projects, interventions or studies with your patients and your network of health professionals.

Guide patients in the management of their health, facilitating their participation in R & D for new therapies and treatments, while empowering them for self-care and better understanding.

Get patients to have a better dialogue with healthcare professionals.