From Lovexair we want to help you understand more about Altys and it's value to us, as one of our key projects for better health outcomes in adult asthma management within the HappyAir Community.
We worked with responsible scientists & experts who are specialised in helping people to manage their health where each individual is unique. This is one of our key goals to help you have better health & lead your life more confidently & independently whoever you are and whatever your difficulties.
What is the science behind Altys?
An interview with Kevin Dolgin, CEO & Founder Observia
Tell us about Altys in a nutshell
Altys is your personal virtual assistant. Altys helps you manage your asthma on daily basis. It provides you with the information you need when you need it the way you want it. Thanks to Altys, you can also track your symptoms, check the air quality around you and much more.
Is really smart. It is powered by the spurTM , a digital tool which allows us to better understand you and your needs as someone affected by asthma. On top of that we use some data intelligence to ensure that when Altys notifies you about something, it is truly relevant to you.
How will this digital companion be able to answer my own problems as a patient?
Every person who has asthma is unique and experiences asthma differently, so by understanding what difficulties you face when managing your asthma, Altys can help you more readily. This is why we work together with you, based on the information you share with us and we can support you in a personalized way. So our interactions are tailored for you, and only you.
What is the science behind Altys?
Our virtual assistant is powered by the spurTM which is a universal tool that unifies different behavioral science theories to provide a full understanding of each patient's behavioral drivers. In a nutshell, it allows to understand the person behind the patient.
What is the difference between Altys and a chatbot?
The way Altys talks to you (using different tones , sending personalized notifications, or accessing the different features offered, such as checking the air quality or tracking your symptoms' progression and sharing this with your coach & your doctor, makes way more than a chatbot. It is really your personal Asma Virtual Assistant.
Tell us briefly how OBSERVIA developed this technology and what studies are behind it?
spurTM Is the result of 5 years of intense research to unify different behavioural theories and create the first next generation patient understanding tool. A first paper has been published to explain this model and is available here (https://www.dovepress.com/the-spur-model-a-framework-for-considering-patient-behavior-peer-reviewed-article-PPA). An ambitious 3-year research plan will allow Observia to validate  the model further and demonstrate the impact of Observia's approach to personalize e-health solutions.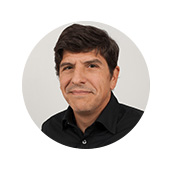 Kevin Dolgin, CEO and Founder of Observia
Learn more about Altys and sign up
Última actualización realizada el 24 April, 2023